Amazing suprise for the kollywood reporters by rewarding and greatful respect for the day of film journalists and
By FJA will organized for instant of time . In Film fare reporting awarded, the Film Journalist Association, By Honorly nepal Film Fare community will persent award that was respectful to the reporters. There were total five reporter to makes the presents prize destrubution function will be arranged on the days of Journalists. In 20st presents anniversary festivals in this occasion, and Atleast whole significant participater member of the Sangh fulfill;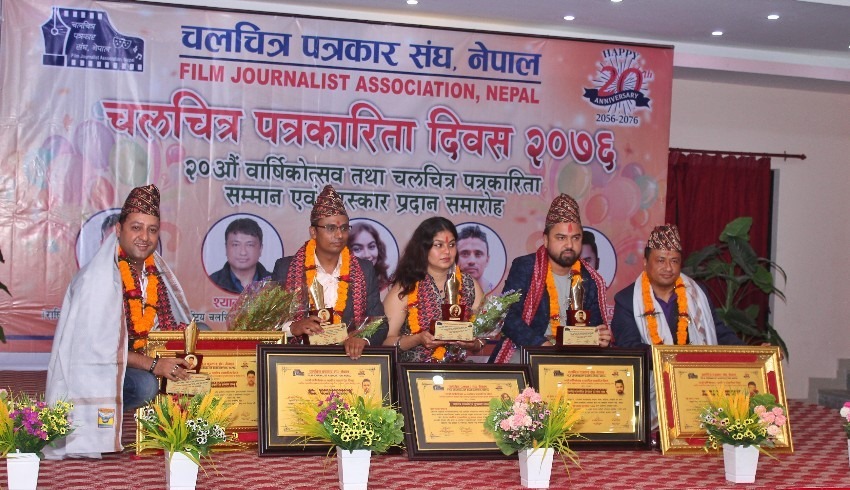 the whole program that 'Film Journalism Award 2076' and 'Shreeda Thapa' and 'Kovar Giri' , 'Film Journalism Award 2076', While the participants in a program of the capital, Naresh Bhattarai and Shyam Memorial.
Alikely , 'Promotion Award 2076' started to be distributed for two years, Photo Journalist Vinod Pokharel, who works in my film Dutam, has been provided with a laptop, copper sheet and trophy. Minister of Communications and Information Technology, Gokul Prasad Bissola, had handed over a letter to five reputable and rewarding journalists.
Awarded to Giri and Thapa were also provided Rs. 21,000. The Association has celebrated its Establishment Day 7 as a Film Journalism Day. The association has celebrated the Film Journalism Day by various programs including respect and prize. Hetauda branch of the association has also distributed various prizes and awards to various people. 
Negotiating at the union's annual festivals, Minister of State Barcotta said that the state is always ready to work in the rights of the movie journalist. He said- "Only the country will be developed only when all areas are in place." All the government can do in the field of film journalism. President, Premier Giri, Chairman of the Film Development Board, Keshav Bhattarai, along with former President of the National Assembly
There was a wide presence in the programs of Karishma Manandhar, Bhuvan KC, Deepakra Giri, Kedar Ghimire, Nita Dhangana, Ramesh Upreti and other filmmakers. Talking to the program, the film journalist Sangh Nepal President Sandip Sapkota said that the Federation will always look forward to the rights of journalists and discussing the contribution of the filmmaker in Nepali movie development.